Scenic Pictures of Southern Indiana
You are here:
Home > Southern Indiana Pictures
All of these pictures were taken in southern Indiana the last time we went to visit my sister in Santa Claus, Indiana. She lives in Spencer County and our mother lives in Evansville. So I have lots of pictures from our last trip there. Also be sure to see what we saw in Northern Kentucky too.
Evansville Pictures
Click here to go to the Evansville page See pictures taken mostly downtown, the riverfront, the 4 Freedoms Monument, Museum and Visitor's Center. Also the ship, LST 325. Great tourist attractions.
Spencer County, Indiana
Views of Spencer County. We took a drive through Spencer County mostly looking for the old cemeteries. Here's some of the scenic country pictures.
-Debbie and I went to Chrisney Indiana for lunch... downtown Chrisney
-We had hamburgers and fries in this Chrisney Restaurant.
-they have some huge old houses in Spencer County
-the Spencer County Visitors Center is at Santa Claus, IN
Santa Claus Indiana Pictures
My younger sister, Debbie, lives in Santa Claus, Indiana. A cute little town, where all of the street names have something to do with Christmas. There is also a huge amusement park there called Holiday World.
-On the highway entering Santa Claus Indiana... closer view of Holiday World tower
-Spencer County Visitors Bureau
-the Holiday Foods grocery store, picture taken at night
-a sign for Christmas Lake Golf Course
Holiday World Pictures
-the Raven Roller Coaster and ticket booths... roller coaster at a distance... another view
-Splashin Safari and ticket booths in parking area... another view
-a highway sign where Holiday World is located... Hwy N Indiana 245 and West Indiana 162
-play some minature golf
-the original Santa Claus Land statue and where it is located
-original location of Santa Claus Land, now under restoration.... the old entrance
-on the other side of the street is Santas Candy Castle
Also see Rudolph Campground and Santa's Lodge
Newburgh IN Pictures
These are pictures taken in Newburgh Indiana. My sister Diana that lives in Henderson, KY, took us out to lunch one day and a drive through Newburgh, Indiana. Diana and I used to hang out at a coffee shop here back in our hippy days. To start out, below is a picture of the old Country Store.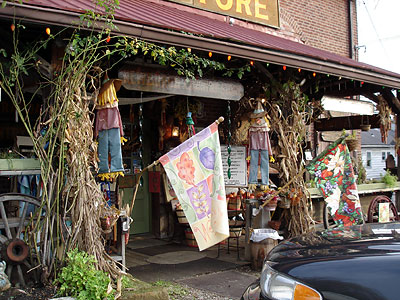 -
---